Fico Line | Feudi del Pisciotto
Merlot and Cabernet Sauvignon, two great international grape varieties that have found their best expression in the Sicilian terroir. Fico Rosso is a wine of great structure, with a marked elegance and extraordinary drinkability, ideal to sip at any time, from an aperitif to dinner. The sculpture on the label is by the great ceramist Giacomo Alessi from Caltagirone.
Highlights
FIRST VINTAGE: 2019
TYPOLOGY: Young red easy to drink
GRAPES: Merlot, Cabernet Sauvignon
VINEYARDS: Niscemi (CL)
Pairing
Intense ruby red color, it's a generous wine with typical olfactory sensations of the two varieties that make up the blend. Hints that recall red plums and notes of Mediterranean scrub, with pleasant nuances of black pepper.
In the mouth it is fresh, soft and well balanced, with an aftertaste of cocoa and vanilla. Excellent in combination with spicy fish soups, first courses and red meat.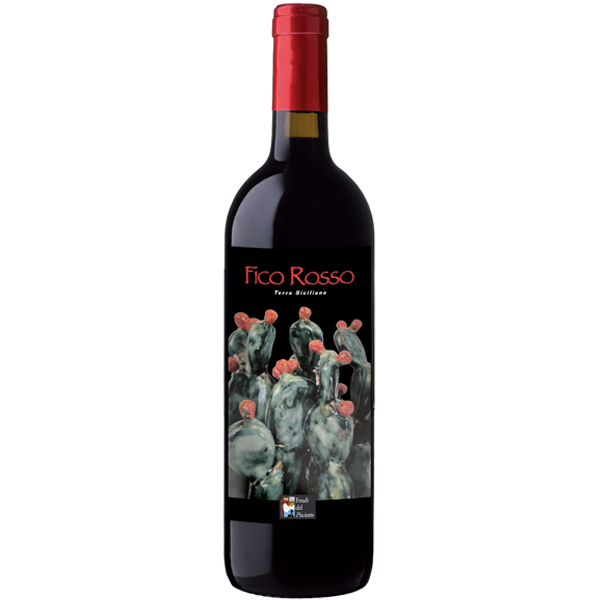 — Municipality of production: Niscemi (CL)
— Soil type: medium mix with a sandy tendency
— Vineyard altitude: 80 mt. s.l.m.
— Training system: spurred cordon
— Planting density: 5.900 plants per hectare
— Grape yield per hectars: 85 Ql
— Harvesting period: first half of september
— Vinification: in steel
— Malolactic fermentation: done
— Aging: second-use barriques
— Duration of the aging: 10 months
— Available formats: 0,75 l