Feudi del Pisciotto Line | Feudi del Pisciotto
The grape variety that best expresses the character of Sicily's oenological tradition. This wine, meticulously produced using the estate's finest resources, expresses in absolute purity the extraordinary elegance and ability of a wine destined to improve over time. Drawn by Donatella Versace, the label is a tribute to the strong personality of Sicilian terroir and wines. The Nero d'Avola 2015 –Versace label has been included in the Wine Spectator's Top 100 list in 2017, therefore proclaiming it one of the 100 best wines in the world.
Highlights
FIRST VINTAGE: 2007
TYPOLOGY: Red with great structure and longevity
GRAPES: 100% Nero D'Avola
VINEYARDS: Niscemi (CL)
Pairing
Characterised by an intense ruby red colour typical of this grape variety. The nose offers delicate and persistent notes of red berry fruits such as blackcurrants, blueberries and cherries. Full, velvety and persistent, aiming for an elegant overall harmony.
Pairs well with red meat roasts, game, stews and aged full-flavoured cheeses.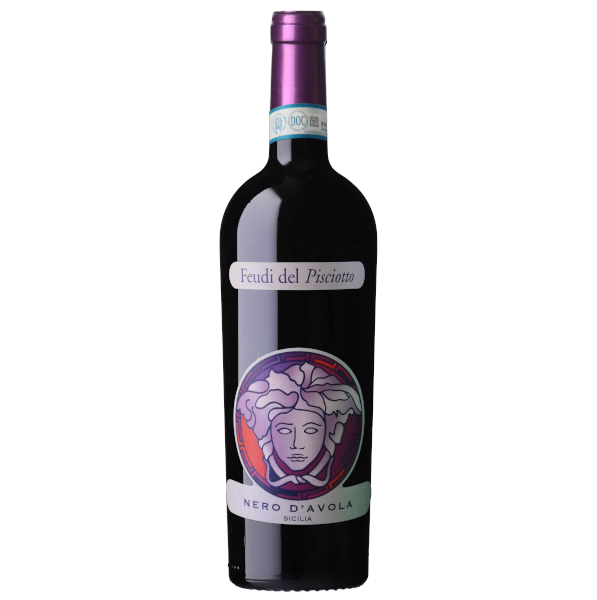 — Municipality of production: Niscemi (CL)
— Soil type: medium mix with a sandy tendency
— Vineyard altitude: 100 mt. s.l.m.
— Training system: spurred cordon
— Planting density: 6.000 plants per hectare
— Grape yield per hectars: 60 Ql
— Harvesting period: last week of september
— Vinification: in steel 
— Malolactic fermentation: done 
— Aging: in barriques 
— Duration of the aging in barriques: 10 months 
— Duration of the aging in bottle: 8 months 
— Available formats: 0,75 l