Feudi del Pisciotto Line | Feudi del Pisciotto
In Sicily the Cabernet Sauvignon varietal acquires absolutely unique characteristics. Lacking strong vegetal notes, this 100% Cabernet is a wine of great structure with a polyphenolic component ideal for optimal ageing. Drawn by Angela Missoni, the label is a tribute to the oenological multiculturalism of Sicily, where the combination of colours and patterns – like the countless vines that proliferate on the island – creates a fascinating final harmony.
Highlights
FIRST VINTAGE: 2007
TYPOLOGY: Red with great structure and longevity
GRAPES: 100% Cabernet Sauvignon
VINEYARDS: Niscemi (CL)
Pairing
Without vegetable notes, typical of this grape variety, it is of great structural level and with a polyphenolic component of wine suitable to long aging.
It is really good if combinated with red meats, roasts, goat and lamb. But also with porcini mushrooms and aged cheeses.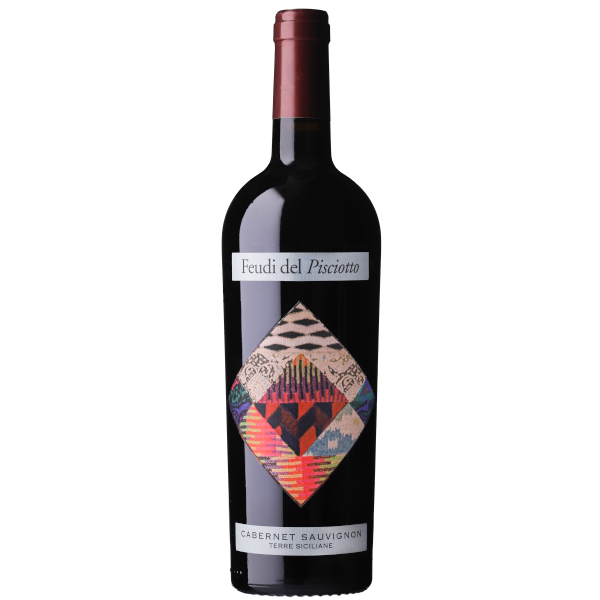 — Municipality of production: Niscemi (CL)
— Soil type: medium mix with a sandy tendency
— Vineyard altitude: 100 mt. s.l.m.
— Training system: spurred cordon
— Planting density: 6.000 plants per hectare
— Grape yield per hectars: 60 Ql
— Harvesting period: first week of october
— Vinification: in steel
— Malolactic fermentation: done
— Aging: in barriques 
— Duration of the aging in barriques: 10 months
— Duration of the aging in bottle: 8 months
— Available formats: 0,75 l