Feudi del Pisciotto Line | Feudi del Pisciotto
A true challenge: Gewürztraminer and Semillon, two uncommon vines for Sicily, yet selected and used in equal proportions to bring to life a Passito wine atypical for the island. The intensely aromatic notes of Gewürztraminer blend perfectly with the excellent structure of the Semillon; everything is supported by a perfect acidity. On the label, the masterful stroke of Gianfranco Ferrè, an architect keen on fashion, tells the story of this great international varietal "marriage" in Sicily.
Highlights
FIRST VINTAGE: 2009
TYPOLOGY: Sweet wine
GRAPES: 50% Gewurztraminer 50% Semillon
VINEYARDS: Niscemi (CL)
Pairing
It has intensely aromatic notes and perfect acidity. It presents sweet flavours with hints of dried fruit, honey and rose.
Excellent with all desserts and even with mild cheeses.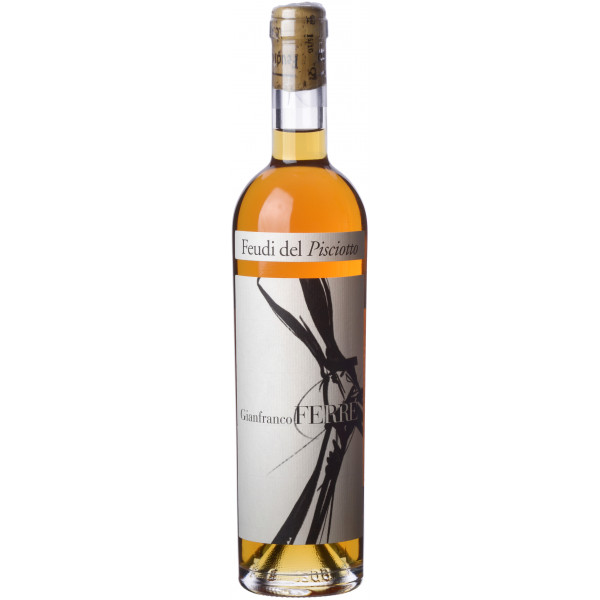 — Municipality of production: Niscemi (CL)
— Soil type: loose
— Vineyard altitude: 100 mt. s.l.m.
— Training system: spurred cordon
— Planting density: 6.000 plants per hectare
— Grape yield per hectars: 50 Ql
— Harvesting period: the last week of august
— Vinification: in steel
— Malolactic fermentation: done
— Aging: in barriques
— Duration of the aging in barriques: 12 mounths
— Duration of the aging in bottle: 6 months
— Available formats: 0,50 l